International Trade Secretary Kemi Badenoch has said palm oil is "a great product" after the new UK-Indo-Pacific trade deal was criticised for aiding the destruction of orangutan habitats.
The UK was accepted into the Comprehensive and Progressive Agreement for Trans-Pacific Partnership (CPTPP) on Friday after two years of negotiations.
Malaysia, the world's second-largest palm oil producer after Indonesia, is one of the now 12-strong group that has reduced trade barriers and tariffs.
Reactions as UK signs biggest post-Brexit trade deal – live politics updates
Concerns had been raised ahead of the deal by environmental campaigners concerned that cutting palm oil tariffs would be an incentive for further destruction of forests where critically endangered orangutans live on the island of Borneo that is partly owned by Malaysia.
Ms Badenoch admitted to Sky News there will now be a 0% tariff on Malaysian palm oil after the country successfully demanded the former 12% tariff be cut entirely as a prerequisite for accession to the group.
A tariff on bananas, however, will remain although will be reduced to £62 per 1,000kg.
The international trade secretary told Sky News: "Palm oil is actually a great product, it's in so many of the things we use.
"This is not some illegal substance we're talking about and actually there are other crops in the EU that are causing deforestation that fit within EU rules."
She said "you have to make trade-offs" when doing a deal and said the UK currently buys 1% of Malaysia's palm oil exports but "moving to 2% from 1% is not what is going to cause deforestation".
Ms Badenoch added that the UK will have "more influence" on sustainability as part of the bloc.
In the document outlining the deal's details on palm oil, it says the UK will "continue to work domestically and with partners internationally to pursue our ambitions for nature, climate, sustainable development, including in multilateral fora such as the WTO, COP28 and through the Forest, Agriculture and Commodity Trade Dialogue".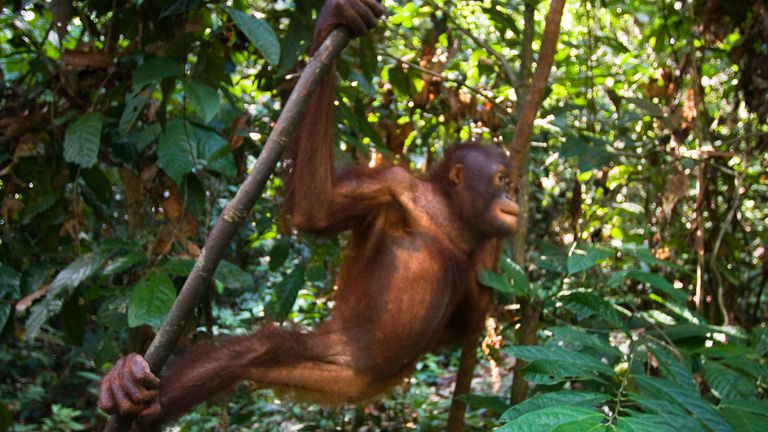 Greenpeace has said the deal makes a "total mockery" of the UK's attempts to tackle deforestation.
Daniela Montalto, forests campaigner at Greenpeace UK, said: "This is outrageous.
"Palm oil is still a major driver of deforestation in climate critical forests across Malaysia, Indonesia and Papua so cutting palm oil tariffs will only incentivise further destruction.
"It makes a total mockery of the UK government's legislation to tackle deforestation in UK supply chains and runs completely counter to the government's promise to put the environment at the very heart of trade.
"Prioritising people and the climate means introducing binding targets, legislation and fiscal measures to reduce production and consumption of products linked to forest destruction to allow these critical natural ecosystems to recover – crucial if we are to stay below 1.5C."
How does palm oil production affect orangutans?
Forests are bulldozed to make way for palm oil plantations, displacing orangutans who then try to find food in the new plantation areas.
Between 1,000 and 5,000 orangutans are killed each year to protect the crops, the Orangutan Foundation International said.
Indonesia and Malaysia produce more than 85% of the world's palm oil and are the only remaining home to orangutans, with fewer than 118,000 currently surviving, according to the World Wildlife Fund.
In 2022-2023, Malaysia produced 18.8 million metric tons of palm oil, which is used in about half of supermarket products from shampoo and cosmetics to chocolate, peanut butter and cereals.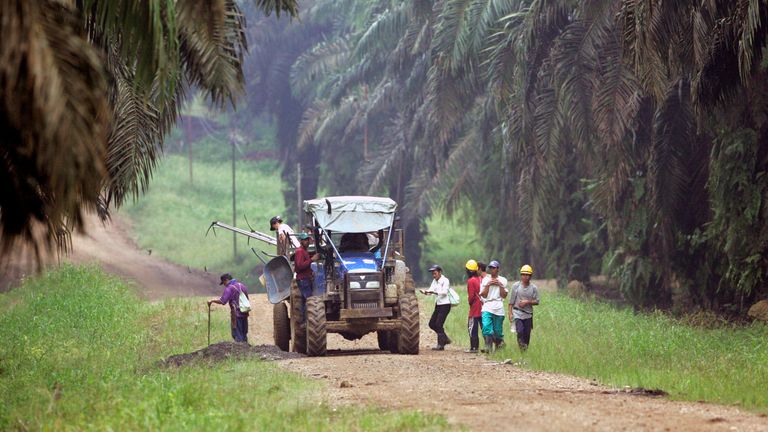 Not all palm oil production affects orangutan habits, with more and more producers choosing to use sustainable palm oil.
The Roundtable on Sustainable Palm Oil (RSPO) was formed in 2004, setting production standards for growers including halting deforestation and protecting wildlife and the environment.
However, some campaigners have said sustainable palm oil is a "con" as it took 14 years for the RSPO to ban its members from destroying forests and have accused some members of continuing to do so while some big brands do not know where their palm oil comes from.