Photos have emerged of the prime minister drinking at a gathering allegedly during the second lockdown.
The photos, obtained by ITV News, show Boris Johnson holding a glass with at least six other people around a table with several empty wine bottles, biscuits and crisps.
In the series of photos, the group appear to be toasting someone as Mr Johnson speaks. There is also a red ministerial box on a chair.
The gathering is said to have taken place on 13 November 2020, during the second national lockdown when people were only allowed to leave home for a limited number of reasons, including work if they could not work from home, and were not allowed to mix with other households.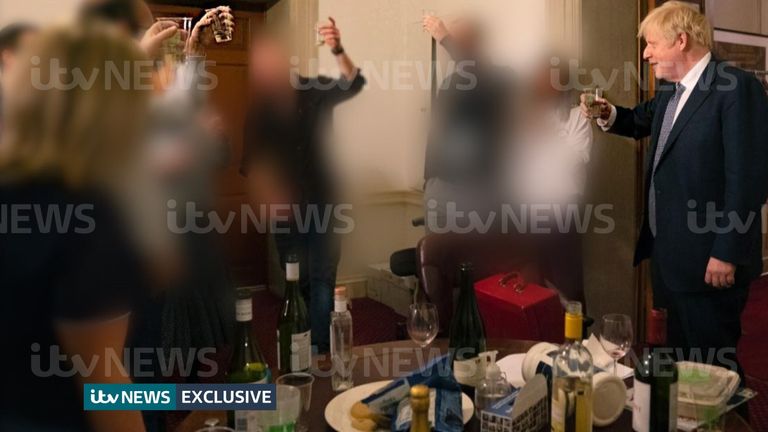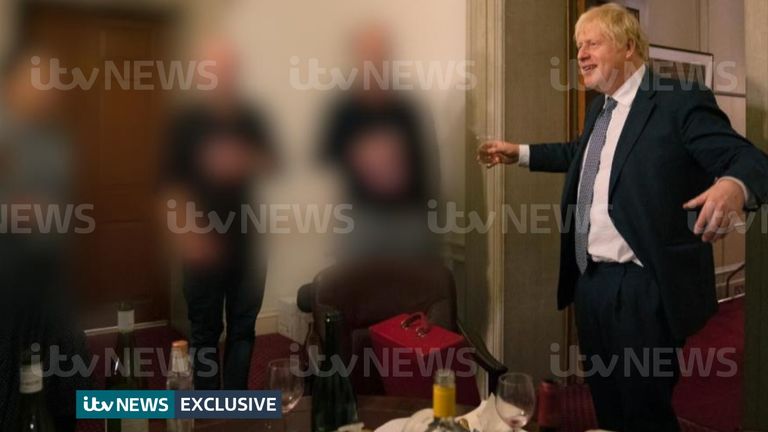 On 8 December 2021, the PM was asked in parliament if there was a party in Downing Street on that day, to which he said: "No."
Events on that day were part of the Met Police's investigation that finished last week, but the PM was not fined for any events that day.
The photos have emerged on what could be the eve of the Sue Gray report into lockdown breaching events in Downing Street and Whitehall.
A Number 10 spokesman said: "The Cabinet Office and the Met Police have had access to all information relevant to their investigations, including photographs.
"The Met have concluded their investigation and Sue Gray will publish her report in the coming days, at which point the prime minister will address parliament in full."