Libya is a country in anguish.
Her people are suffering a fresh kind of horror after years of civil war, fighting, corruption, greed and people smuggling.
Now floods have devastated the port city of Derna and the communities and villagers around.
And what's so much worse is that the natural disaster caused by Storm Daniel, which has been sweeping across European counties, has been compounded by a man-made catastrophe.
Those in the worst-affected town of Derna are calling it a disaster of "biblical proportions".
Civilians in the town have been using their bare hands to try to dig for survivors…. instead they're finding just the remains of victims.
The airport at Benghazi has been bustling with people trying to get home or go to the area themselves to track down missing relatives. There are an estimated 10,000 unaccounted for.
It's hard to know exact figures but the civilians on the ground are stunned and terrified at the scale of the devastation this torrent of water caused.
They expect the death toll to rise substantially but with little co-ordination on the ground, accurate figures are tough to come by.
The collapse of not one but two dams in Derna unleashed a terrible violent water force which upended vehicles, tore down houses, apartment blocks and schools.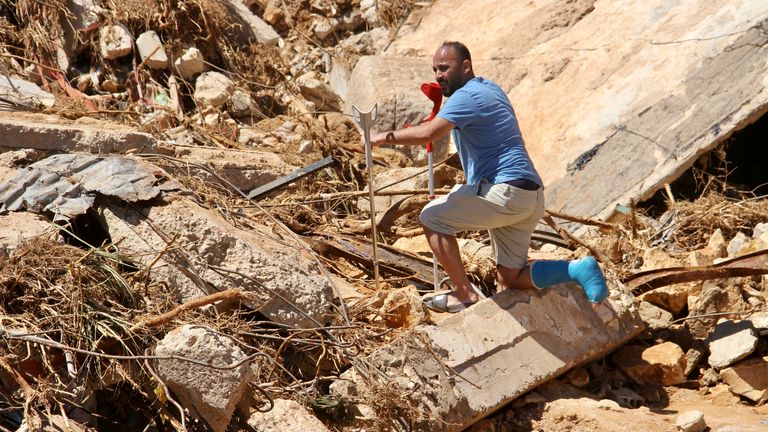 'A lot of people are under the mud'
One shocked survivor showed us pictures of the utterly flattened muddy landscape in front of him where dozens of buildings once stood.
"They've all just gone… Derna has gone," Maged told us.
"I can't believe it. I've lived 27 years or so in Britain but I was working on my retirement home here in Derna where I am from. It used to be beautiful. Now there's nothing left. I don't even know if I can stay here now. The memories are just too hard."
Another told us of the despair at the complete destruction of the area.
"It is a disaster of biblical proportions", Mere Bijou said.
"And our government is to blame… anyone in charge in Libya is to blame. Everyone knew Storm Daniel was coming but they did nothing about it! They didn't protect us, they didn't try to save us, they didn't do anything!"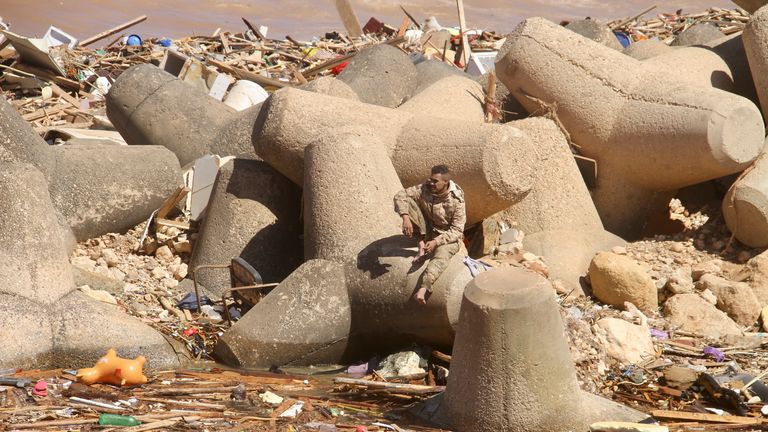 Read more:
What caused the deadly Libya floods?
At least 30,000 displaced with fatalities expected to rise
Before and after pictures reveal devastation
International aid has been promised – by the UK, France, UAE and Turkey – but those on the ground haven't seen much evidence of it.
"I'm told Turkey is helping, France is helping, other countries are helping," Mere said.
"But we haven't seen them… where are they? There's no international help at all. It's just chaos.
"We've got a small group of four people – all civilians – and we've pulled out eight peoples' remains on our own [in] the last few hours."
Libya: 'Disaster driven by human error'

Libyans are worn down by years and years of poor governance which many date back to 2011 and the NATO-backed ousting of the country's autocratic dictator Colonel Gaddafi, during the period which became known as the Arab Spring.
Gaddafi was killed and the country dived into instability with rival armed militias vying for power and territory.
The divisions and fighting led to a bitter civil war and two pseudo governments splitting the country into two.
The West-based authority is recognised by the United Nations while the east is run by Khalifa Heftar, a military strongman who supported Gaddafi.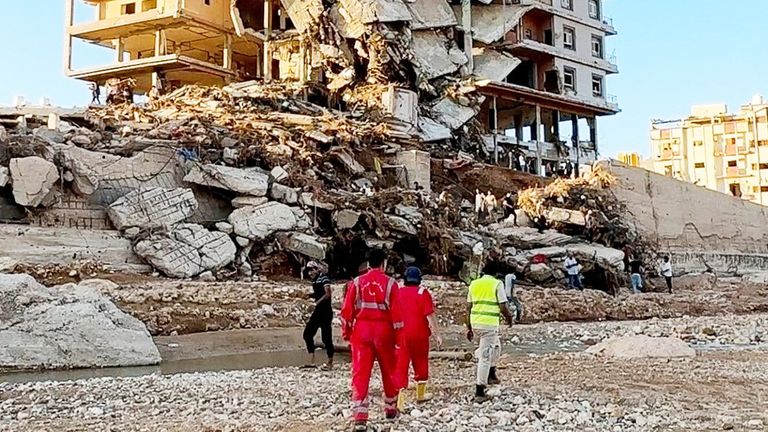 Libya: Sea 'bringing in new bodies'

The years of strife, weak and corrupt governance, corruption and negligence has meant Libya was utterly unprepared for coping with a disaster, described by some as apocalyptic.
While the devastating earthquake in Morocco took the country by surprise, Storm Daniel announced its arrival by smashing its way through a string of countries.
But the Libyan authorities were simply not up to preparing for or coping with a disaster of this magnitude – and it is the Libyan people who've been killed, or left displaced in their thousands.
Some of the survivors are already fearing they will never be able to find their loved ones.