"They killed my brother, and now they're coming for us too." 
These are words from inside Iran that its rulers do not want the world to hear.
WARNING: THIS ARTICLE CONTAINS A GRAPHIC IMAGE OF INJURY
"They're taking us hostage," Reza said. Sky News is not using Reza's real name to protect his safety.
Reza's brother was brutally killed during the protests last year. Armed police forced the grieving family to bury his body the same night he died – in an effort to cover up their crimes, he said.
Reza, who is in his late 20s, and his family have been the target of a campaign of harassment and threats by the authorities ever since.
He risks imprisonment, torture and death to speak to Sky News. But despite the government's efforts, Reza is adamant he won't be silenced.
And he's not alone.
Reza is speaking from a small room in Turkey where exiled Iranian activist Shilan Mirzai works in hiding.
She supports victims of the country's brutal crackdown on protests, which looks set to intensify as the anniversary of 22-year-old Mahsa Amini's death in police custody approaches.
"The harder they're pushing, the harder people fight back," said Ms Mirzai.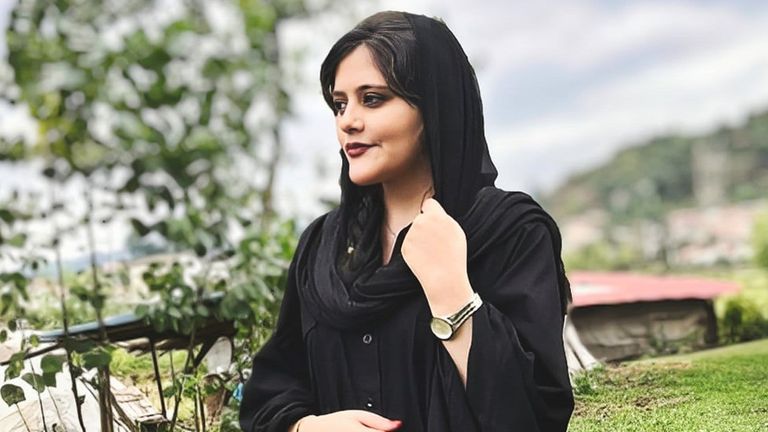 Ms Amini's death last September in the custody of Iran's notorious morality police sparked an unprecedented uprising against the regime, which threatened the very existence of the Islamic Republic.
The response of the cleric-led government was brutal and bloody with more than 500 people killed, including 70 children.
Almost a year later, the protests appear to have subsided but the government crackdown continues.
In the past month, Ms Mirzai has seen a sharp rise in the number of the families of those who were imprisoned or killed during the protests reporting threats, harassment and arrests.
Ahead of Saturday's anniversary, human rights campaigners, activists and academics have reportedly been arrested – including Ms Amini's uncle and lawyer, and the young journalist who broke the story of her death.
What happened to the Iran protesters?

"Iran's government is clearly anxious," Ms Mirzai said. "They know that people are preparing to reignite the protests."
But the widespread crackdown on protesters by authorities isn't just limited to Iran.
Activist Shilan Mirrzaee, who lives in Turkey, is regularly threatened and harassed.
Read more:
Teen girl Sonia Sharifi 'abducted' and 'tortured' by Iranian forces for second time
Defiant #MahsaAmini protesters push back against strengthened morality police's hijab patrols
"They're trying to silence me," she said. She rarely leaves her house and even stopped her son going to school for three months out of fear something might happen to him.
Her family in Iran aren't safe either. Shilan said they're being taken "hostage".
In the past year, her father has been arrested six times for her activism. Her brother and sister have also been arrested. Her sister was threatened with rape.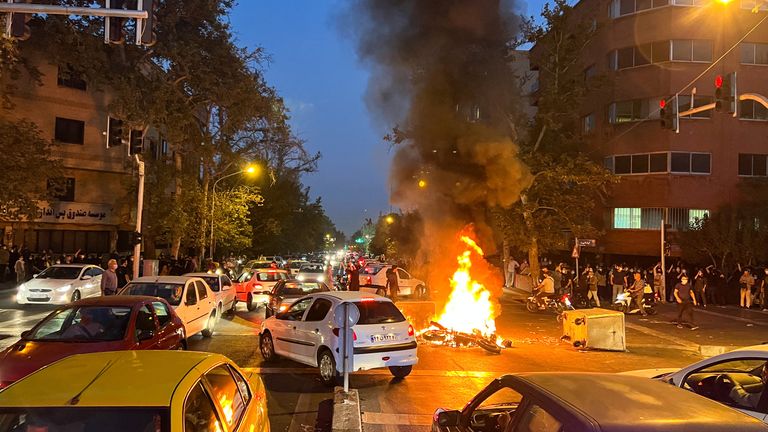 But her family has encouraged her not to stop being an activist.
"We can't speak out ourselves," her father said, "but you can be our voice".
"I'm not scared of the Islamic Republic government. Even if they kill my father, I will keep on fighting," she said.
"We don't want the Islamic Republic. Dictatorship must end."
While many protesters prepare to take to the streets once again, others are left grappling with life-changing injuries from last year. Others look on from afar after escaping Iran in search of safety and medical treatment.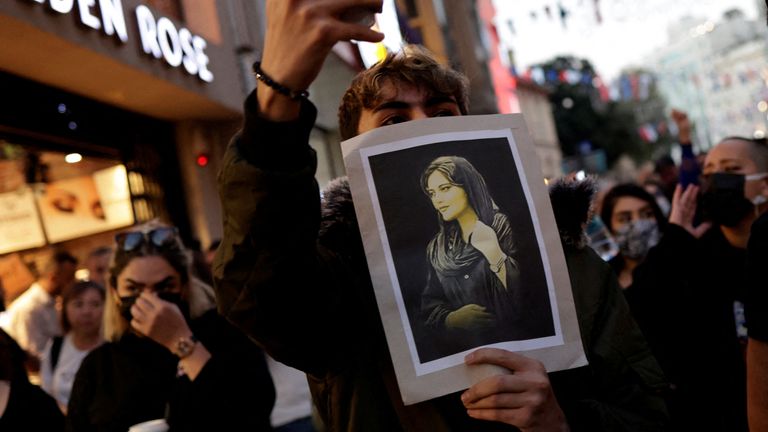 Behzad Hamrahi, 44, and his family were forced to seek asylum in Turkey several months ago.
"The guards held my arms behind me," the father-of-two said. "Another stood less than a metre away, pointing a gun directly at my face. Then everything went black."
Mr Hamrahi thought he had died. A guard had shot him in his left eye with a paintball gun that contained a dense ball of pressurised plastic.
He lost his eye – one of 600 people to be injured in this way according to doctors in just two provinces. The actual numbers across Iran are likely to be much higher.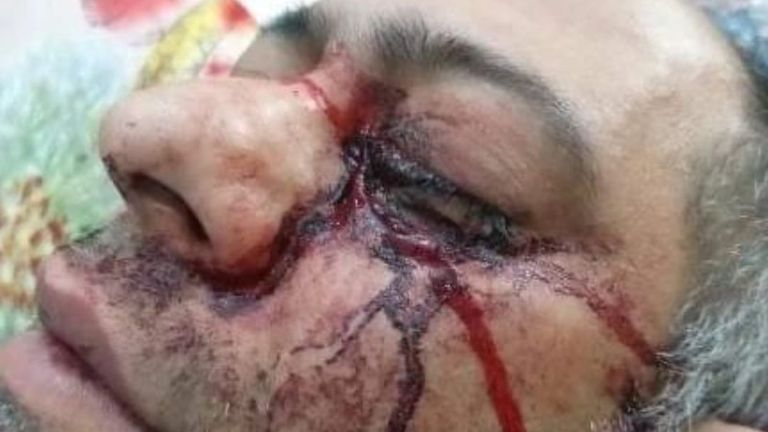 Mr Hamrahi was beaten by the guards but before they could take him away, several other protesters carried him to a nearby apartment block and helped him hide.
One of the protesters, a nurse, helped clean the wound. But Mr Hamrahi desperately needed urgent medical care.
"I knew [getting medical treatment] would lead to my arrest," he said. But he decided to go to a hospital the next day "regardless of the consequences".
Most clinics and hospitals refused him as it was clear he sustained his injury in the protests.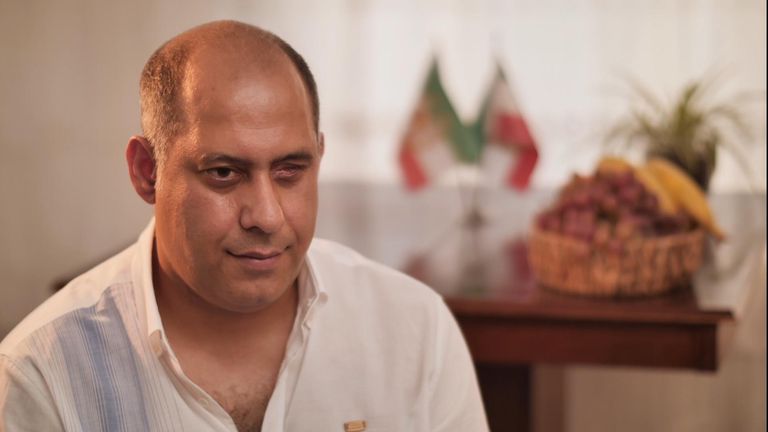 Mr Hamrahi ended up having his left eye removed in a hospital that was known to collaborate with authorities.
Shortly after he was discharged, he was held in prison for a week where he was tortured.
"That's when I decided that I must leave the country immediately," he said.
He arrived in Turkey a few days later with his wife and young children.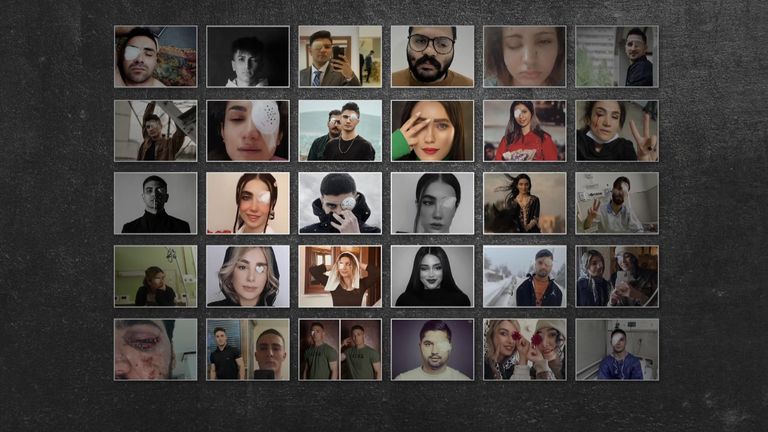 Mr Hamrahi, now living in a modest apartment in the country, said he doesn't regret his involvement in the protests "because I fought for a free and prosperous Iran".
But not everyone feels the same. Reza tells me that the stress and suffering his family has been through since his brother was killed is unbearable.
"The harassment towards our family has been non-stop from day one and it's only getting worse," he said.
He promised his family he would not take part in any future protests. "They can't bear to lose another son," he said.