A Vincent van Gogh painting stolen from a museum in the Netherlands during a COVID-19 lockdown has been returned to an art sleuth in an Ikea bag.
The Parsonage Garden at Nuenen in Spring, also known as the Spring Garden, was snatched from the Singer Laren museum, about 30km (19 miles) east of Amsterdam, on 30 March 2020, when the attraction was closed to prevent the spread of coronavirus.
Thieves smashed glass doors during an overnight raid to take the 1884 artwork, which was on loan from the Groninger Museum, in the city of Groningen, around 180km (112 miles) from the Dutch capital.
It has "suffered but is – at first glance – still in good condition," the Groninger said.
The museum singled out Dutch art sleuth Arthur Brand for his "key role in this case" – but declined to provide further information on how the painting was recovered.
Mr Brand, nicknamed the "Indian Jones of the art world", is seen in footage on the Dutch national broadcaster NOS as he takes the painting out the Ikea bag, unwraps it and shows it to the camera.
'Extremely happy and relieved'
Director Andreas Bluhm said in a statement: "The museum is extremely happy and relieved that the work is back.
"We are very grateful to everyone to contributed to this good outcome."
"Police have been closely involved in all phases (of the recovery of the painting)," the museum added.
The oil painting, which is being kept temporarily at the Van Gogh Museum in the Dutch capital, will be subject to scientific examination in the coming months.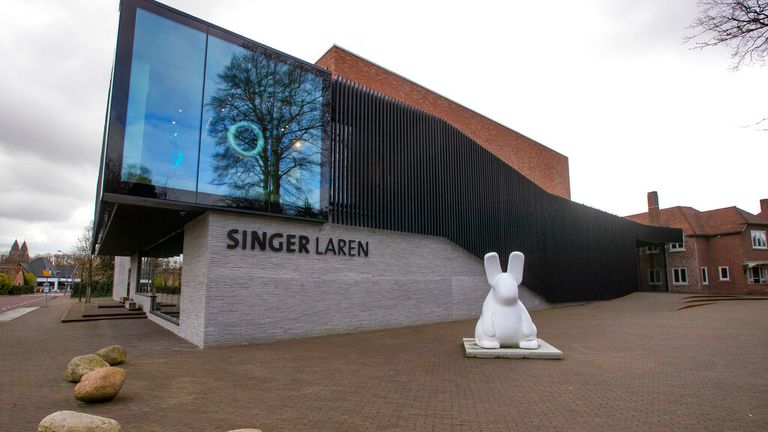 The value of the painting has not been revealed.
An insurance company paid the Groninger Museum for the loss and is now the formal owner, although the museum has said it will exercise its right to first purchase of the work.
Read more:
X-ray reveals previously unknown Van Gogh portrait
Climate protesters throw soup over Sunflowers masterpiece
Van Gogh painting discovered after 100 years
It hopes to put the painting on display soon, but it could take "weeks, if not months".
The 25cm by 57cm (10in by 22in) creation depicts a person standing in the garden of the rectory at Nuenen – a rural Dutch town where Van Gogh's parents lived – surrounded by trees, with a church tower in the background.
It dates to a time when Van Gogh had moved back to his family home and painted the life he saw there, including his famous work, The Potato Eaters.
Later, the Dutch Post-Impressionist painter moved to southern France before his death in 1890.