It takes just minutes for the scenes to turn grim: a dirty trap house, a drug user injecting scabbed feet, a tiny baby crawling amid the filth.
This is Trapping, a new British film starring MOBO-winning drill rapper Abra Cadabra and produced by filmmakers and grime pioneers Femi Oyeniran and Nicky "Slimting" Walker.
Later this evening, they take the story to parliament for a discussion about the bleak reality of the UK's county lines problem, where vulnerable adults and children as young as six, according to the Children's Society, are recruited to move and supply drugs.
While the portrayal of drug dealing often shown on screen has long drawn criticism for glamourising the lifestyle, the same cannot be said for Trapping. Rather than focusing on the "girls, the money, the cars", as writer and director Penny Woolcock tells Sky News, it delves into the world of "going county" and those on the frontline, also showing the hopelessness of the addicts they feed.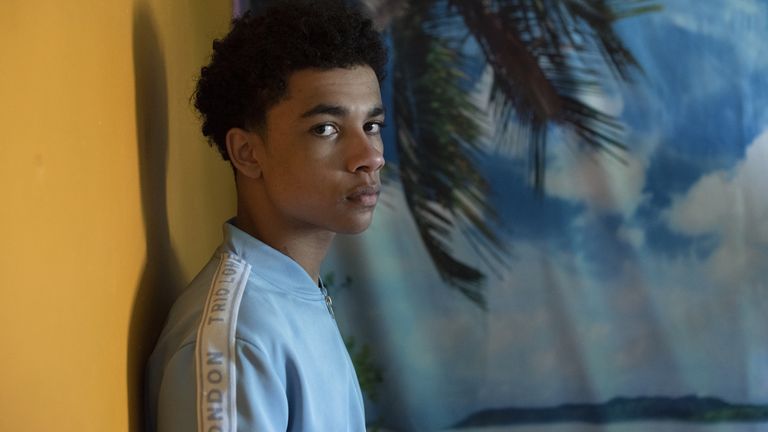 Raised on the Broadwater Farm estate in Tottenham, Abra Cadabra, real name Aaron Philips, told Sky News at the film's premiere that he drew on his personal experiences to play county lines gang leader Magic.
"It's reality," he said. "It's what some of the kids in London go through growing up. It's good to show what's really going on… I've seen a couple of my friends go through stuff like that. It hit home."
Louis Ede, who plays main character Daz, a young boy wanting to earn some money to help his struggling mum, is now 20 but had just turned 18 when filming started.
"I learnt a lot of things I didn't know before. I've been around people who have been in that environment – that's why, in a way, it was kind of easy for me to portray the character because I could channel the things I've experienced from my past. However, saying that, I didn't know how gritty that lifestyle actually is until I shot the film."
'This is not just a black problem – it's a white problem, too'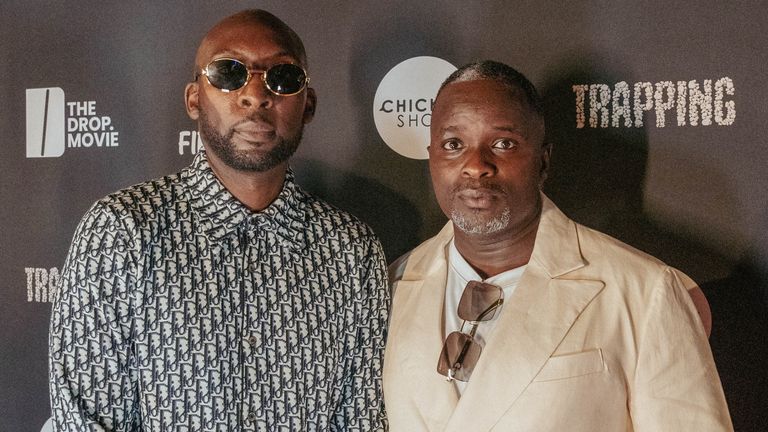 For the film's stars and creators, taking the debate to parliament is a big deal. Oyeniran and Abra Cadabra will be part of a panel supported by campaigner and chief executive of Enact Equality L'myah Sherae; author and activist Ben Lindsay, founder of Power The Fight; filmmaker and youth coach Amani Simpson; and Labour MP for Streatham Bell Ribeiro-Addy.
They are calling on the government to launch a creative grants scheme to help young people in need, taking stats from the Children's Society stating that 46,000 children in England – and likely many more unknown – are thought to be involved in gangs, with 4,000 teenagers being criminally exploited in London alone.
They say the situation has been made worse by the recent rise in children reported missing from school and increasing child poverty.
Oyeniran, who started his career starring in the cult classic Kidulthood and went on to produce films including It's A lot, The Intent and The 12, says widening the debate is as important as the film itself.
"[Trapping] gives a rounded perspective of drug dealing," he says. "Sometimes you look at films about drugs and it's either a critique of drug use, or it's about drug dealers. This shows the real side, it humanises the drug users, and also it shows that it's beyond just a working class thing, it's also a middle class thing. And it's not just a black problem, it's a white problem, too."
Too often, in the media and with politicians as well as in film and TV, the focus is on gangs, he says. "It's titillating, the idea of a gang is scary, and all of that stuff. But let's talk about the middle-class people that live in counties that consume drugs… who are these drugs being sold to?"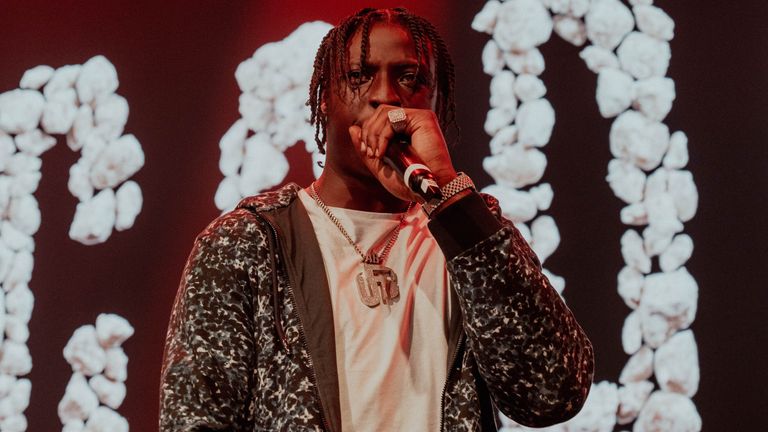 Read more on Sky News:
Guns and swords seized in county lines crackdown
Organised crime group targeted in 'largest single operation' to close down county lines
Walker, his filmmaking partner, says he hopes children and young people watching the film will be put off the lifestyle often sold to them. "There's only one thing that happens to you when you're a drug dealer – you end up going to jail for a very long time. Or, you end up dead.
"A film like Trapping will show you the dark side. It's not glamourising, to be the next Pablo Escobar. It's not showing you about the flashy clothes and all these things… it's showing that you're in this sh*tty, horrible flat, that it smells, and you're around dirty people."
'This is about protecting children'
Woolcock said she wanted to make something authentic, that young people vulnerable to the lifestyle could relate to. You have kids that queue up [to sell drugs] because they think it's going to be great. We wanted to show that, that's truthful."
Woolcock is calling on MPs to tackle the problem. "Youth service has been cut to shreds, there's virtually no youth provision. Poverty and inequality have increased and those are the underlying causes, why people want to get into this.
"A kid in a certain neighbourhood will think there are three options: you are either a drug dealer, a footballer or a rapper, and that is it."
"Politicians have a responsibility to end this issue," says Ms Sherae. "In order to protect the next generation, they have to do more and introduce laws to really think about prevention rather than a hard line on drug use. If you think about this as a safeguarding issue, this is about protecting children."
The Trapping movie panel discussion takes place this evening, with the film released on Friday on The Drop, a new streaming platform which aims to serve minority and underrepresented audiences and promote independent and upcoming British talent, supported by the British Film Institute and launched by Oyeniran and Walker's Fan Studios.