You're listening to The Streets, Mike Skinner told us back in 2001. Back then he was launching Original Pirate Material, the era-defining debut album that would become a cult classic and a best-seller, despite his lyrical assertion otherwise.
Now, we will soon be watching on the big screen, too, as Skinner releases his debut film The Darker The Shadow, The Brighter The Light, billed as a "tripped out neo-noir" murder mystery. The story follows the "seemingly mundane life" of a down-on-his-luck DJ and has been entirely crafted by the musician, who wrote, directed, filmed, edited and created the score for the project, and is also its star.
From a lyricist whose nuanced lines about life's mundanities turned the banal into the exhilarating – from video shops and texting girls to scrambled eggs and fried tomato (plenty of) – it sounds promising. Of course, there is an album, too – the first full-length record from The Streets in more than 10 years (None Of Us Are Getting Out Of This Life Alive, released in 2020, was a mix-tape of collaborations).
'I'm a DJ in the film and that part of the film is true'
"It's a musical but the songs are the voiceover," Skinner told Sky News at the premiere for the film, held in London. But don't expect "jazz hands or dancing around on lampposts – that's the next film", he jokes. "It's a very simple story that started out almost like a film noir type thing, but then got carried away."
Scenes were shot in London venues such as Visions and Hoxton Hall, as well as Manchester's Warehouse Project and Club Liv. "All of the places in the film are nightclubs where I have been DJing, so I'm a DJ in the film and that part of the film is true. But I wasn't trying to be overly clever. I was just trying to make a film that would be easy and cheap."
Skinner called time on The Streets in 2011 before announcing a reunion tour in 2017. His other projects, such as The D.O.T, have been low-profile in comparison, and he has been DJing for years. "I think music is about the other people you're around, which is what makes it so intense when you're a teenager, right, because the music represents these emotional times that you're having. In a weird way, I actually think DJing is a bit like that, really. Because, you're forced to be in rooms with people listening to music very loud."
So the premise for the film sounds like it could be based in truth, apart from, presumably, the murder-mystery part. "It's not autobiographical at all, apart from the people and the places, if that makes sense," he says. "There's elements of it that are really happening – when I'm DJing, that's just someone filming me when I'm DJing. But it's… I've just crafted a very silly story on to the top of what is very banal, and nocturnal."
Concept similar to A Grand Don't Come For Free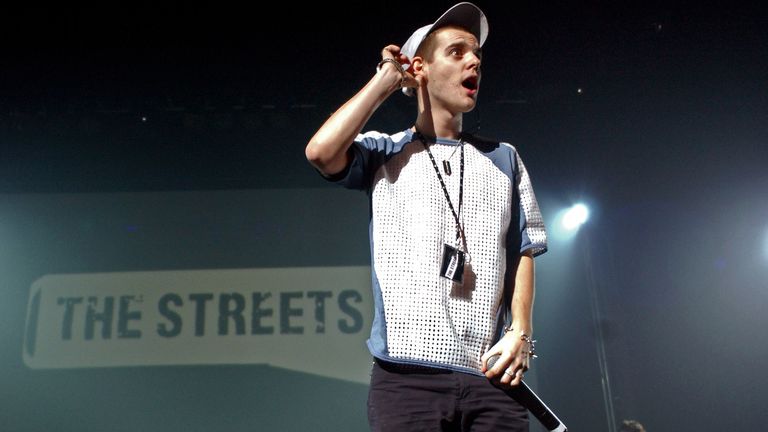 The film was planned "as being a bit like my second album", Skinner says. A Grand Don't Come For Free, the album that saw his fame skyrocket, was a concept album telling the story of a guy who loses £1,000, featuring hits including Fit But You Know It, Dry Your Eyes, and Blinded By The Lights.
"This is the same, really," he says. "It's kind of what I've been doing lately, but turned into a musical."
The music has been ready for years – "this project's seven years old, or 10 years, depending on how you define it… I've been sitting on the music".
Read more from Sky News:
'I can enjoy the past more knowing I have something people want to hear now'
Seizures and synesthesia: Soundtracking an epileptic brain
Bringing back The Streets, starting with a reunion tour, has been "great", Skinner says. In fact, that's been the easy bit. The film was harder to get off the ground. He was determined, financing the project himself when he struggled to get backing.
"Knowing that I'm working on this film and then working on this film has been a nightmare. It's been an obsession… I kind of did everything myself so it just didn't stop, really. The tunnel was very long, very dark, and there was no light – apart from a train, maybe."
Click to subscribe to Backstage wherever you get your podcasts
'I didn't sleep for a week'
Skinner is a perfectionist. "You have to be. But it was more… we did try to get funding. No one wanted to give us any money. That was 2019. I mean, established directors can't make films, you know, so I've not got a chance in hell, really. I kind of knew that. End of 2019 I just thought, I've just got to do this myself or it's not going to get done. And it's really hard."
Now, with the film about to launch, he admits he feels "completely overwhelmed", having struggled the most with the finishing touches in the days leading up to the premiere. "I've kind of gone from literally sitting in my pants, just tearing my hair out, to like three days later, having make-up put on me and talking to you."
He adds: "It was completely bonkers. I didn't sleep literally for a week. I could have gone on, to be honest, I could have gone on for another six weeks. But, you know, you don't finish a work of art. You just abandon it."
Skinner is touring The Darker The Shadow, The Brighter The Light with Q&A sessions at Everyman cinemas, starting in Plymouth on 19 September and ending in London on 6 October